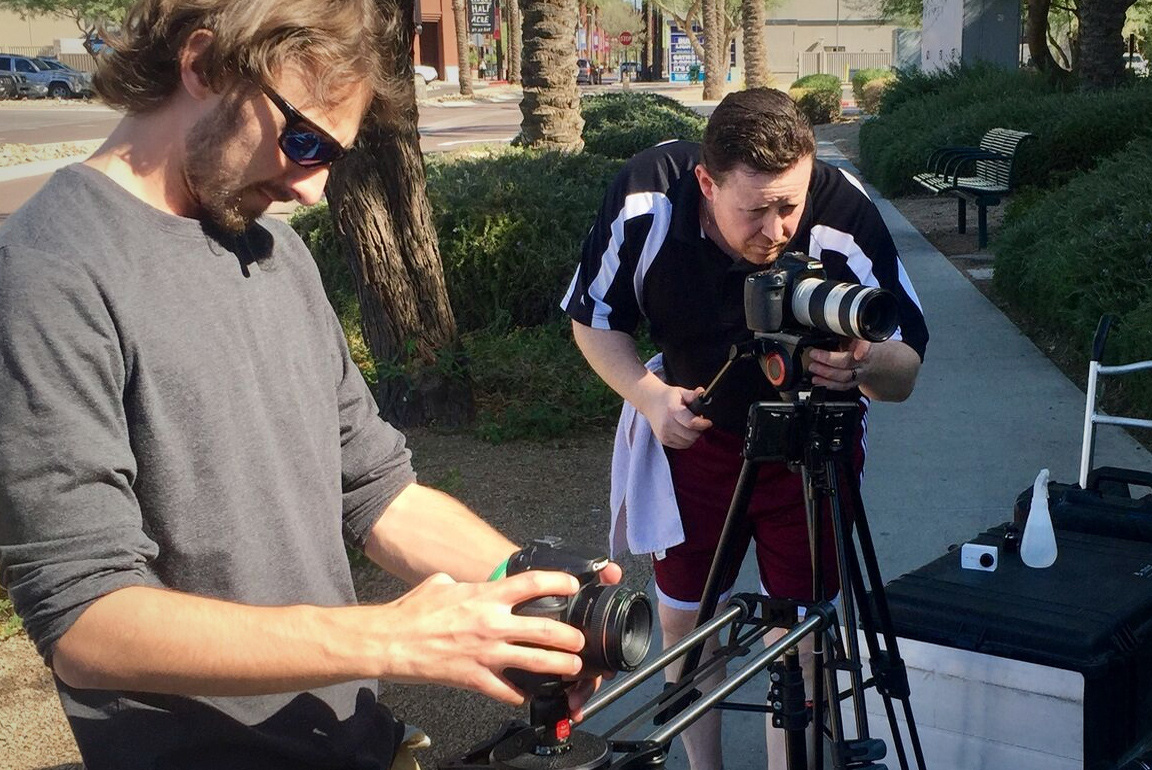 I can always use a Phoenix or Scottsdale videographer, video production pro, or camera operator on set—
interested?
Who am I looking for?
I need an extra set of hands, eyes, and ears on set. So, I might need everything from repositioning lights, monitoring sound, rearranging furniture, holding a reflector or a boom, sitting in for talent so I can get focus and test audio levels, maybe even operate a second camera—to be honest, I need someone team oriented who will jump in and help wherever help is needed.
Why am I looking for someone?
I'd like to be more efficient with time, and I enjoy working with (inspiring and and getting inspired by) film students and other online video professionals in the Phoenix area. 
What are the shoots like?
Informal. I work with business owners and dentists. I am professional but personable with clients, and I do my best to make sure everyone on set has fun and feels appreciated. I work really hard, but clients tend to relax and enjoy themselves.
How long are shoots? 
Usually 3-4 hours. However, I won't need help with setup and tear down, so I might only need you for 2-3 hours.
When are shoots? 
Mostly on Saturday mornings—sometimes Friday mornings—rarely through the normal work week. If you are a wedding videographer, working with me might not be a fit because we'll both end up working on Saturdays.
Where are shoots?
As you'd guess, it varies, but I usually stick to the Phoenix metro area. Most of the shoots are in Scottsdale, Phoenix, Chandler, Gilbert, Mesa, Fountain Hills, Peoria, and Glendale, although I've filmed in Anthem and even Tucson as well.
How will you get paid, and how much?
Paypal would be cool if you're open to it. How about $25/hr.? I do pay in advance.
I am looking for someone who is...
Reliable and punctual.
A good communicator.
A friendly, helpful person.
Experienced in filming video (no photographers please)—corporate video experience is strongly recommended

. 
Knowledgable in lighting, monitoring sound, and framing/camera operation (Canon DSLRs)/getting coverage/providing editing options for post production.
Able-bodied / fit / coordinated / careful. We'll both be moving gear around, so you need to be comfortable and confident moving around and handling gear.
Able to roll with things—I don't work with hired actors but business people and dentists, so unexpected stuff happens from time to time. It's important to be flexible and accommodating.
Proactive—look to offer ideas and assistance when appropriate. Anticipate what might happen next, and then move forward without having to be instructed.
What's not good about working with me?
While I've been in marketing, branding, design, and publishing for over 15 years. However, I've only been filming for three, so there's always something new to learn.
If you're looking to learn ALL the tricks of the film trade...well, I am not a Jedi yet.
I'll expect you to be on time, to be excited, to be helpful, and to work. Bring your "a" game—I'll bring mine.
What's good about working with me?
I've worked with a handful of DPs and camera operators, and I've managed three teams of creatives in my career. The people working with me would tell you I am respectful and fun to work with.

When we work together, you won't be stuck getting coffee (I don't like coffee). Instead, we'll work as as team, and I'll have you working with the lights, sound, and cameras (real work on set, not working as a gopher). I'll make sure you'll be doing things on set that you enjoy and that you're comfortable with. 

I don't have an ego when it comes to filming. I am open to ideas and collaboration. I won't always act on suggestions, but I am willing to consider them. I know some of the best last-second ideas on set don't come from me.

If I can help you with your career through advice or connections, I'll be happy to do so.
What's the next step? Follow the directions below
I'd recommend first looking at the work I do. I am surprised at how many people rush to apply without having an idea what type of projects I do. First see what I am up to—if you feel my personality and type of work is a fit for you, read on...

Fill out the form

by clicking here

. Be sure to include why you'd like to work on videos like the ones I've done (if you don't really want to work on projects like mine but you just need extra money, I respect that, but it's best that you pass on this opportunity.). Let me know what you feel you can offer, and please provide links to video projects you've been a part of (let me know what your role in the shoot was). 
PS—Don't have any experience but want to get into the video profession? Ask me about filming some behind the scenes footage on set. This is a non-paid position, but it's definitely a way to get experience when you're new to the profession, eager to learn, but lacking experience.