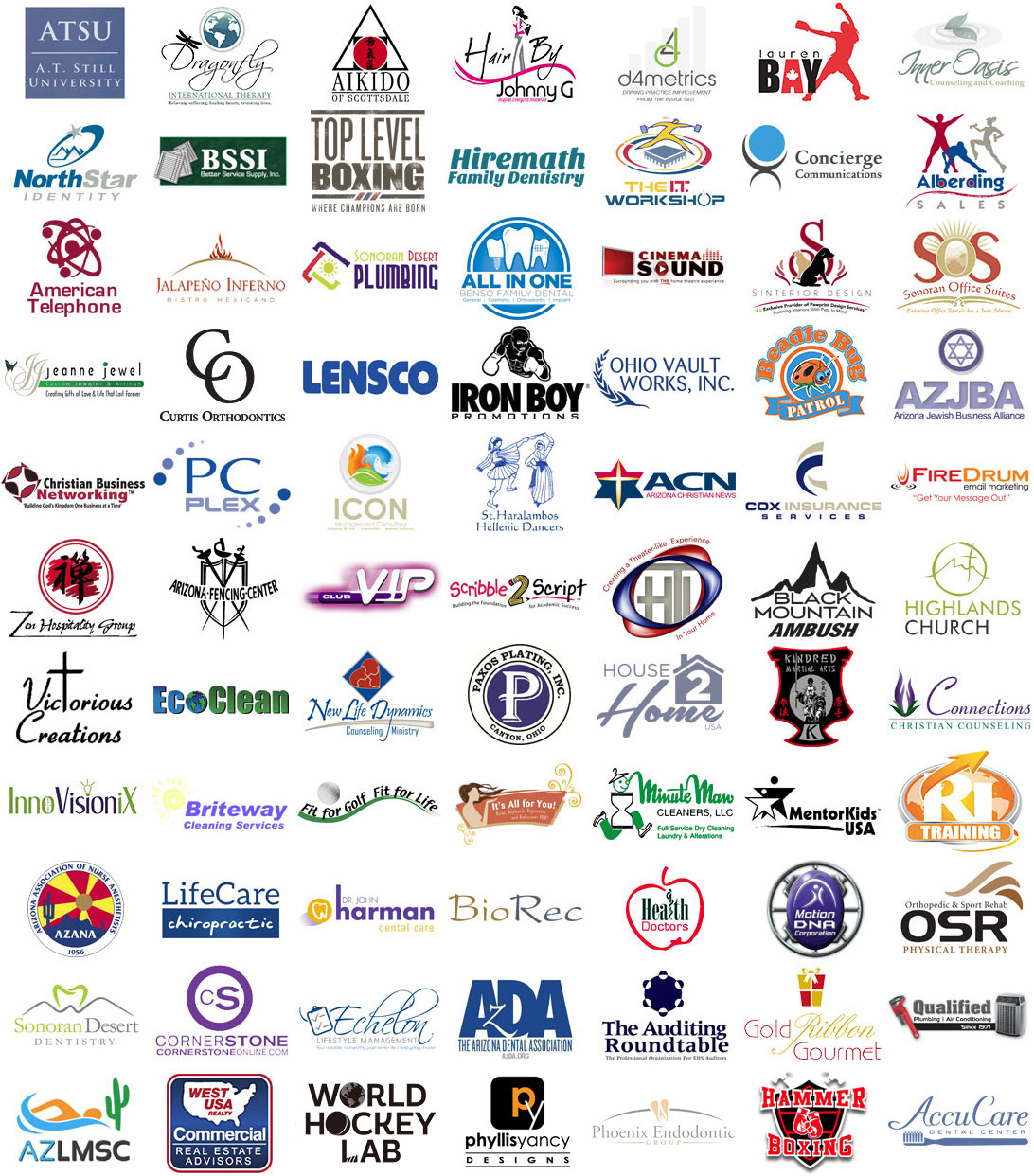 Real and completely unedited video marketing testimonials and reviews from Phoenix, Arizona business owners, dentists, artists, and athletes
The "raves" below are from clients (small business owners just like you, candidly sharing their experiences working with me) as well as creative professional colleagues—some great people—I've worked with over the years.
I not only filmed small business video promotions for some of these clients, but I've helped them in small business branding, small business marketing consulting, and small business logo design and collateral creation (I actually ran a FT design and marketing company from 2000-2008 called Can-Do Graphics, LLC)—I just focus on small business video promotion now!
A special thank you to all of these clients colleagues—friends really—who took time out of their day to help me!
Last, the testimonials below are completely unaltered. I fixed grammatical errors, but beyond that, these are the exact words clients used to describe their experience working with me—seriously.
-------------------------------------------
Jeremy, you are AMAZING!  You are SO GOOD at this!!!!!  I gave you nothing and you made an AMAZING video.  I absolutely LOVE it!!! Thanks so much!

-------------------------------------------
LOVE LOVE LOVE - first of all. Just wanted to let you know that our meeting went GREAT last week - and your videos definitely got the "wow" factor reaction we were looking for!  Thanks for all your work on this.
-------------------------------------------
Ohhh myyy gosh....I'm so happy with this. It rocks!!!! I love it!!!
Thank you labor day for the video time. =) If I could do back flips....I would be right now. Thank you. 
-------------------------------------------
Wow! quite impressive. thank you so much. 
-------------------------------------------

GREAT JOB!  We will be using you again!  It is aways a pleasure and you are highly recommended!!!!
-------------------------------------------
I am pleased w/ the video and I am happy moving forward with it.  Good work. I was also very pleased with my experience working with you and with the final product.  I will be sharing your names with all my friends. You are awesome!

-------------------------------------------
Jeremy, I think that looks amazing! Wow, so weird to see it up there how we imagined it, makes it feel so official! I've been meaning to send you a message before now to tell you what awesome feedback we have gotten from the video. He's had numerous patients that saw the video and chose to go to him over the place down the street. Just from the one post on Facebook, it was viewed over 4000 times, wahoo!!!!!! I'm already dreaming up the next one, haha!
-------------------------------------------
OMG! This is looking soooo cooool! Completely blown away! Thank you so much!
-------------------------------------------

Great work!!  Thanks so much for your great work! 
-------------------------------------------
Thank you for all of your work. The video looks amazing. 
-------------------------------------------
I loved the video!! I am happy for you to be able to get paid for something you love to do and you are so talented at your craft. You do an amazing job and you should be proud!  We were blessed to have create the video for us. Thank you again.
-------------------------------------------
OH MY GOSH!  I LOVE THIS!  I think this video demonstrates exactly who we are and what we believe.  
I'm sending it out to all my friends!
-------------------------------------------
hat is fantastic!!! You did such an incredible job directing, filming, and editing. I'm very impressed. All our staff love it as well. Great job, Jeremy. Thanks again, Jeremy. It was a real pleasure working with you on this project.
-------------------------------------------
h it's so awesome! I LOVE it!!!! Thank you so much for the opportunity. I think it came out great!!! The cinematography was fantastic. Kudos to you!! 
-------------------------------------------
Thanks! It looks awesome. The music is great. The sound effects are great. The clips were perfect. We may have to have you back it turned out so well!
-------------------------------------------
I bow to the master. This is wonderful. Kudos again!
-------------------------------------------
The video is fantastic!!! I give you a ton of credit for capturing incredible moments, sensations, and emotions! Your labors of filming, editing and more give fruit to some really awesome stuff!!!
-------------------------------------------
Really nice! I will share it with the boss and then give you the go-ahead.
Thank you so much- really nice close-ups, speed, and lighting.
-------------------------------------------
t's out and already getting shared! Looks awesome! 
-------------------------------------------
 literally had tears in my eyes the first time I saw the finished video. This is the type of promo video we always wanted, and very much worth all the work and time that we put in, with you at our sides. You did an excellent job, in the research, guiding, planning, video set-up, interview questions, filming, editing, etc.  We appreciate your professionalism and expertise.  You absolutely seemed to know what you were doing every step of the way.  
And, as I said, WE LOVE IT!!!!!
-------------------------------------------
Jeremy Tuber is a refreshing support team member. He not only has talent but he has brain-power, integrity and results to back it up. His background in marketing and graphics makes as a strong foundation and most importantly allows you to focus on other things that matter most in your business.
His inquisitive sense means that he will ask questions on your behalf, identify and solve any problems at the earliest possible moment, and keep you informed of his progress as he oversees all of your marketing needs. It's important to have a team member that you can count on, someone who knows what things to look out for, and someone who can think and manage it as good as you would... or perhaps even better than you would. Jeremy's specific focus is to improve not only the delivery and visual impact of marketing materials, but he is concerned to make your investment in his services and support work hard to create a healthy return on your investment.
His input and expertise is generously shared at all levels of project planning and execution. You can count on his detailed-focus to manage your project as it was his company on the line. Actually, his company really is on the line anytime he accepts a project, and his personal reputation is of the highest standard. How else would he get a former competitor to write such a rave review? I was in the branding and marketing business for over 18 years and rarely ran across someone as thoughtful, talented and effective as Jeremy Tuber. Hire him and see what he can do for your marketing efforts. You won't be disappointed. 
-------------------------------------------
As a creative business strategist and commercial writer who focuses on sales process development, there is only one thing that matters to me when I'm working with a client. How will the work we do together increase top line revenues. Since brand and image are essential in building sophisticated campaigns I have worked with many graphic designers over the years. The challenge has always been that they are artists. They don't understand the complexities of business and how design relates to increasing sales.
Then I had the good fortune to meet Business Savvy Branding Expert, Jeremy Tuber. Jeremy is a unique blend of artist, designer and businessman. When it comes to business and sales, he "gets it." Meaning that Jeremy understands the role of design is to enhance the marketing message, to create an "image" that SCREAMS, "Tell me more about that."When my clients and I work with Jeremy Tuber, sales happen.
In fact, Jeremy is the only creative professional I have met in the past 30-years who offers a guarantee. "The designs he creates will build confidence, increase credibility and get results or you pay nothing." No one in the design business that I have ever worked with has offered such a unique and compelling guarantee.
Jeremy proves himself repeatedly under fire. Every project I have worked on with Jeremy had the same result. My client was extremely grateful for having met someone with his level of design talent and business acumen. The successes we've shared in working together shows me that Jeremy is one in a million. As a result, I use him every chance I get; recommending him without hesitation.
When you call Jeremy, you can rest assured that you're talking to a business peer who understands his role in your business and will work tirelessly to ensure you get the result you're looking for. My highest recommendation goes out to Jeremy Tuber. Use him, let him work his magic for your business, and your sales will increase.
-------------------------------------------
I have known and worked with Jeremy since our days as graphic designers at KnowledgeNet in Scottsdale. I found Jeremy to always be very engaging to work with, ready to share ideas, techniques, and strive for both a better product and ways of production.
Jeremy was very inclusive right from the design stage when I worked on his projects. I felt I was always able to include my personal stamp on the visual design and work and have reasonable deadlines to produce each stage. Jeremy was always organized and ready for the next stage of production to keep the project moving to completion.
Jeremy is a great planner/organizer. He's written books on how to identify and solve various business and communication issues as a designer and a project manager. He understands the need to present a defined goal and a structured methodology to reach that goal. Jeremy encourages the best work from collaborators is quick and complete with feedback to tailor work to the desired standards.
I wholeheartedly recommend Jeremy Tuber to lead and instruct others in efficient design and work practices. He leads by example. He sets the proper tone and enthusiasm for all endeavors!
-------------------------------------------
Jeremy is someone that is dependable, organized, and focused on delivering top quality designs. I have worked with him in a variety of roles over 12 plus years. Jeremy has a way of getting the best production and creativity out of peers. I knew I could count on him to always find a way to push to the next level and create something that would catch your eye.
When Jeremy started his own design company he was truly in his element. He possesses a great ability to understand clients' needs and create their vision. He provides clear direction on contracted assignments still allowing me to express my creativity.
Jeremy understands designers of all levels, from those starting fresh that need more mentoring to those you have been in the industry for decades. His is respective, considerate, and encouraging.
-------------------------------------------
Jeremy exceeded my expectations in all ways... he did exactly what they said he would do. All was accomplished in a very timely, professional, and organized manner... as well as I loved his creativity! What a difference it makes in hiring an expert who can quickly assess my needs that will actually increase my revenue potential. I will definitely use Jeremy for our entire corporate identity program." 
-------------------------------------------
We're a new customer with Jeremy, and I have to tell you that beyond being respectful and easy to work with, Jeremy took the time to listen to what we wanted in our advertising to integrate our ideas into his design. That being said, Jeremy also wasn't shy about telling us if we were going down the wrong direction. He was quick, responsive, and the results were beyond our expectations. 
-------------------------------------------
I was referred to Jeremy by a very good friend and business associate of mine. I was looking to modernize my brand and marketing image, and I had a specifically goal in mind. I knew I didn't want to work with just a web designer. I wanted to work with a graphic artist who could make my vision into reality. Jeremy is a true artist and designer. He took the time to get to know me and my company. He asked questions. He dug deep into understand me and what my business was all about. I work in a very competitive field. I wanted a unique brand to represent what our company is all about. We care about people, pets, and the environment, and we want to keep people safe. Jeremy listened and delivered exactly what I was looking for: a fresh new look that encompasses our desire to help others without using scare tactics. We just got started with our new brand and website, and I'm very confident that this change will help grow our business and take us to the next level. Thank you, Jeremy. I'll refer you to all of my friends. 
-------------------------------------------

Working with Jeremy has been an amazing experience. We represent a small gourmet baked goods company from Ohio, and we had no idea how to market our product when we began. We came to Jeremy with a name for our business and colors we liked, and that was pretty much it. He took those two concepts and he created an elegant and rich looking logo for our company that has made our business quite popular in our small community. We worked together on the website. We took some ideas we had, brought it to him, and he created a website that has gotten a lot of rave reviews. One repeat customer keeps our website as one his favorite sites to hit on a daily basis. He says it reminds him of comfort, warm happiness.

Another lady from California who just recently placed an order said the pictures, the colors, the wording jumped out and looked enticing. She had to order. I'm happy to say that she's been very happy with the product. In fact, we knew we had an excellent product, but without the proper advertising and marketing, it is very hard to show off your product and services. Jeremy and his team knew from researching, interviewing, visiting our home, talking with us on a daily basis, how passionate we were about our product. He took those emotions and he put them into our website. We have been in business for three years, and we are happy to say that each year we are growing quite rapidly, and about 85 to 90% of those sales come from our website. We are very happy, and we will continue to work with Jeremy.
Thank you very much. 
-------------------------------------------

I had the pleasure of being able to utilize Jeremy's work on more than one occasion, and I can honestly say that his work was always efficient and on time, and I had no complaints. If anything, I almost thought it was too good because whenever we received the proof or some finished product, I expected the bill would have been astronomical considering the amount of work he put into it, but his prices are very fair, and 100% of the time, if somebody saw one of the business cards he designer or some of our marketing material, they were impressed. I got a lot of positive feedback, and Jeremy was directly responsible for a lot of that. We'll definitely use him again in the future and would be happy and very comfortable recommending to a friend or an associate. 
-------------------------------------------
I just wanted to put my recommendation in for Jeremy of Jeremy and let all of you know what a great and tremendous experience we've had using his firm. As example, we had Jeremy design an advertisement for us, which on the first run has pulled more than it cost us to do and was profitable in itself, pulling in many, many times what it cost us to run the ad and to produce it. We just wanted to make sure that everyone knew that Jeremy is an excellent choice for your marketing activities. 
-------------------------------------------
I'm a therapist in private practice, and when I contacted Jeremy, I wanted to create a business logo based on a concept that I had been working with for a while. I needed to expand it and really make it really capture what my entire company does, which is work with individual clients but then also provide therapy and trainings at an international level. When I contacted Jeremy, I did have an idea of where I wanted to take the concept, but I didn't have it fully developed. Jeremy was really enthusiastic in working with me and really captured the essence of what I had in mind. He took a great deal of time to ask exactly what I wanted from the design and also find out why I was choosing what I needed in the design, which I think was really important as a customer. Rather than just taking my concept at face value, I think he expanded it, and thus brought it to life. By the end of our work together, I had full confidence that Jeremy understood my design goals and my company, and as a result of that, I believe the design captures the essence of my business and the message that I want to send current clients and future clients, and I have received great feedback on it. 
-------------------------------------------
I hired Jeremy about six weeks ago with a very ambitious timeline in mind to rebrand my company with a new niche being emphasized. Jeremy created amazing new logo, business cards, letterhead, and a phenomenal website in record speed. He gets it. He has a fabulous mind, both creative and business, and he has outstanding customer service. I would recommend Jeremy at Jeremy to anybody who has a need for any of the business components, be they the whole menu or just individual items. I have the utmost confidence in Jeremy and his ability to do a phenomenal job, whatever the objective is. 
-------------------------------------------
I'm a medical professional. I own a physical therapy clinic and basically was a startup practice. I had not been in business before. Basically, needed to create an identity for ourselves and had been in business about a year and a half without any formal logos or print media or anything like that, and kind of made it up on our own. Although it worked, we've never really had an identity that people could see out in the community and know that that's who we were. That's basically what Jeremy came in and did, was developed a logo and a look that was easily reproducible, and really identified us in the community and with doctors and with patients. When people hear my business, they know that it's our physical therapy clinic and they see the logo on the building and on business cards and on the sign and in doctors' offices. They start to be able to put faces with names, and that's helped create repeat business. I think it's helped us a lot. Thinking about the keys to our success in the last couple of years as we've grown, I would say that was really the benchmark, the starting point for us as far as getting our identity and moving on from there. That's what Jeremy's helped us to do. We've really appreciated what he's done, and look forward to working with him in the future and would recommend him to anyone. Thank you very much. 
-------------------------------------------
I work for the a Christian News group. I met Jeremy Tuber at a business meeting and was really impressed with the professionalism of Jeremy and the theme of what Jeremy and Jeremy present to the customers of Can-Do. What I mean by that is, Jeremy has a unique way of identifying what we were as a business and what we could be in his hands. Once Jeremy was able to identify the needs that we had as an upcoming, fresh start newspaper here in the valley, serving a unique niche, the Christian community, he was able to mold and define our logo representation, our image. He presented us with multiples of options for us to go down. Then, basically hammered them out to create what we have come to know as our defining presence in our media kits, our business cards, our logo.

All these things are basic representations of what people come to identify us as. The polish that Jeremy has put on our image has been beneficial in many different ways, including producing revenues from us sending out our media kits to people. We feel that the media kit that we have is something that people will keep on their desk and read, and we get a good return on all of them that we print. We were really happy with what Jeremy brought to us. We were happy with the image that was created. The branding that came from Jeremy's workmanship, and we would recommend him to any of our customers or people who are out there that want the expertise of Jeremy. I really appreciate everything that he's done. Thank you. 
-------------------------------------------
I've known Jeremy for a couple of years now, and as a small business strategist, I refer my clients to him all the time. Everybody I've ever referred Jeremy to has had a great job done. They've been extremely satisfied, but most importantly to me as a business strategist, Jeremy's helped them gain more confidence and greater credibility with their business brand, making my job just a whole lot easier. So, I'd highly recommend Jeremy for anybody who is not feeling secure, not feeling safe with their business brand to create something that's remarkable. 
-------------------------------------------
I was not familiar with advertising and what an image could do for a business and how it could change the way people identify you. Jeremy was instrumental in recreating a very lackluster website into a very informative website as well as giving us an image for our business cards and our letterhead, as well as some other advertising venues that we chose to use that really make people identify with us and make it easy for our information to get throughout the valley. I can't tell him how much I appreciate what he does, plus he continues to follow up with new and inventive things to change and refresh some old images that we have. It's a pleasure working with him, and we continue to work with him in every way regarding our advertising and our website. We appreciate him a lot, and we look forward to continuing to work with him, because he always has new and innovative ideas on how to make things better, and we thank him very much. 
-------------------------------------------
I would encourage anybody that needs some creative work done to speak with Jeremy, because he is of the utmost character. He works wonderfully, creates great graphics, does a good job. As far as being a good golfer, well, that's another story. But anybody in the dream team should be going to Jeremy for their creative work. —David Hepburn

I am the vice chairman of a swimming club, and we've had the opportunity to work with Jeremy on developing some marketing materials in order to increase our membership. As far as the quality, I can't say enough good things about it. The designs are professional, simple, and targeted. I think the graphics that Jeremy incorporated is absolutely top-notch. I was very impressed with the results along with the other board members. Along with that, the service that Jeremy provided was personal and I consider it to be exceptional service. He really went the extra mile to ensure that we had the perfect marketing piece that targeted the market we were going after. Kudos to Jeremy. You do a great job. 
-------------------------------------------
I just wanted to thank Jeremy for all of their help in building my website and company identity. I didn't know a lot about building or designing a website, but Jeremy took all the hassle and pain out of it for me. Jeremy sat down with me and went over what I wanted to say to my customers and what my company is about, and then he took it from there. I didn't have the time to devote to building a website, but fortunately, I had hired the right company. Jeremy went above and beyond what I think most designers would do by doing a lot of the work for me. I would recommend Jeremy to any company or individual. 
-------------------------------------------
We were very fortunate to team up with Jeremy. Before we had Jeremy overhaul our image, we had a very boring and plain image. Once Jeremy got done doing his magic, we now have an image of a multimillion-dollar company, even though we're much smaller than that. I have also seen what his work has done for us in a dollars and cents issue as well. We now have been able to move the business out of my home and into a commercial building. In addition to that, we have recently done some new advertising and a local mail piece, and we have seen a tremendous response from the piece compared to previous ads with the old image. Also, the leads from this new ad have been clientele that have significantly higher budgets for home theater projects than previous leads. What this means to me is that the new image Jeremy created for us allows us to attract better clientele. That in itself is the main reason why we had Jeremy overhaul our image. Lastly, working with Jeremy has been a pleasant experience. He was very helpful, patient, and offered some freebies along the way, which goes a long way in my book. I don't think you can go wrong doing business with Jeremy. 
-------------------------------------------
My husband and I own a plumbing company. We've been working with Jeremy for a few years now. Working with Jeremy has helped us grow our business so much in the past few years, since we've switched over to all of our new designs. He's designed our ads, our new logo, and a gorgeous website. Our clients, our advertisers, and even our competition has complimented us on what a sharp ad we have and how beautiful our website is. They love how it really separates us from our competition. I'm always excited to tell people about Jeremy and his team, because they have really helped us to grow our business. Jeremy does a great job, and I would just recommend him to anyone. 
-------------------------------------------
I'm an international hair designer. I just want to say, Jeremy is great. I did a lot of other marketing with other people, and I wasn't satisfied at all. I met Jeremy six or seven months ago in a marketing I was in, and I liked what he was saying, but the thing is, I wasn't happy with my past experiences. I was kind of nervous of going with anybody. After I got to really know him and sit down with him, I was very, very impressed. He took his time out of the day just to sit down with me. I called him up to ask questions, and he was right on top of things. I was just very impressed with everything he was doing. So, I went with Jeremy and it's just been an awesome experience. I'm such a perfectionist in my business that I'm always picking at things, but when Jeremy designed everything that I really wanted, I didn't have to pick at anything. I was even blown away with the things that he designed for me. Then, the thing that really got me at the end was, he said, if your mouth doesn't drop when you see your business cards or your website, I'll give you your money back. Wow. This guy is very confident at what he does. When I saw my business cards and my website, yes, my mouth dropped. So, I'm very impressed with Jeremy and I just want to say, hey, he's the best. 
-------------------------------------------
I searched the Internet, and the first company that I came to was Jeremy. First of all, I love the name, and after meeting with Jeremy, they should change the name to "Jeremy can do anything." I saw Jeremy's picture on the website, which made me want to call. He looked happy, sincere, and he looked like someone I would want to ask for help. When we talked, he was bright, energetic, and it came across that he really loved what he does. When he met, I knew in an instant that we would do business. His sincerity and enthusiasm made me walk away from the meeting with complete confidence knowing that I had someone who could help our organization grow. Thanks, Jeremy.  
-------------------------------------------
I just wanted to leave you a message to let you know how pleased we are with your service and dealing with you directly and your company. Some of the projects that we've done, especially when we launched our new website and the interactive DVD we put together helped really get the message across to our customers and the print that we put together also supported that material also. We've seen some great growth and I attribute that a lot to the marketing efforts we've put together. Again, look forward to working more closely with your company and putting together some other projects. Thanks for everything you've done for us. 
-------------------------------------------
I play professional softball for the and I have had the pleasure of working with Jeremy. He has been nothing but dependable and trustworthy. If there was ever a question or a concern, it was always addressed extremely quickly, and I ended up 100% happy with where we went with my questions. I've got more compliments than I ever could have imagined on my website, and all of that credit does for sure go to Jeremy. I can honestly say, over half of the emails that I've been able to open from my website have actually been commenting on how wonderful it is. Jeremy is absolutely 100% professional business. I would recommend Jeremy to anybody. The experience I had working with them was nothing short of exceptional, and I am hoping that we will continue the relationship in the future. 
-------------------------------------------

I recently worked with Jeremy for my new logo, business cards, marketing photographs, and a print ad. The entire process was amazing, never rushed. I am what you would call a particular person, and Jeremy took time to listen to my every need and to really find out about my business and what I was trying to accomplish with these projects. He had lots of knowledge and enthusiasm, and it shows in the finished product. My materials communicate my message in a professional way, and I have gained more confidence in networking situations due to my new business brand. I would definitely recommend Jeremy to business owners who are ready to get serious and take their marketing and their business to the next level. 
-------------------------------------------

Jeremy repeatedly goes beyond expectations in their creativity, their knowledge, and their follow through and their quality of work. I have used them both personally through my business as well as refer them out to clients, and I am always satisfied. As a small business owner, it's nice to know that you can refer a company out to your clients and that they're going to come back to you and say thanks, and Jeremy is one of those companies that I can confidently refer out and know that they are going to take good care of my clients. I would certainly advise you to at least give them serious consideration for your marketing efforts. I don't think you'll be disappointed. 
-------------------------------------------

I've been in the business of personal training for 12 years as a trainer with a very limited income. As I was growing as a business, I decided I would just make everything myself. I made my own business cards. I used Print Master Deluxe, Print Master Gold, Print Master Platinum to write my brochures, all of my posters. I got posters blown up, but I did everything myself using clip art. You know what? I think I did a pretty darn good job for just my personal training clients. Once I got a little bit bigger about a year ago, I noticed myself feeling a little embarrassed to pass out my business cards or to pass out my brochures to people. Or send them information or materials if I did know them. I know that I was looking small-time. I know I was looking like a one-woman business, but I had made things on my own. Anybody could tell that. I was referred to Jeremy a little over a year ago by another colleague of mine that used him, because I loved your business cards. They were front and back. They had wonderful colors on.

They had a certain kind of sheen to the material, and it wasn't just a white, perforated, cut off business cards that I had used for so many years. I thought, you know what? I'm going to start with that. I've been working with Jeremy for about 14 months now and had him work on a business card first for me. Then, I had him do brochures for me. After the brochures, I had him do a humongous banner for me. I had looked other places first. I went to Fast Signs or Signs at your Service or Kinko's or something to have a banner and found out that even with just a general three-color banner with a white background, it was going to cost me a lot of money. Jeremy, on the other hand, came out to my facility, took pictures with me, took the time, came up with neat little taglines and hooks on the banner and on my brochures as well that I would have never thought of. He came up with, become a heavy hitter without the heavy. I still use that today. I would have never thought of it on my own. He came up with the marketing idea, and I have a lot of people that see that on my banner as they walk by my booth and come back over and say, what do you do? What is this all about? I am very happy with those three things that I have used from Jeremy.

As a business owner now that I'm growing and becoming more nationwide with my DVDs and my book, I'm very, very proud to pass out my business card and my brochure. I feel like my integrity is at a much higher level. My business sense is at a much higher level. I'm very, very proud and happy with what Jeremy has done for me as a business. Definitely put my name on the map, and I would recommend his services to anyone. Thank you. 
-------------------------------------------
I believe that Jeremy really helped us find our story of who we are and what our products represent. It was after sending our website out to all of our friends and family, we received comments back that they felt that the website really captured who we are and what we love. As soon as I heard those comments, it really meant something to me, because I know that when people who don't know us, and they're going to see that story behind the product and they're not just going to have a cold website with products to be sold on it. They're also going to see that passion that we have for what we do, and I believe it was all captured because we spent time with Jeremy and we let him get to know us, and I believe it was all captured in the website. 
-------------------------------------------

Jeremy was great to work with. Jeremy made me feel very comfortable with the whole process from start to finish. That's important when you are putting your trust and also your money in someone to design a website for millions to see and enjoy. Jeremy actually made our site reflect us as individuals. It portrays our characteristics, and I'll be honest. I didn't think a web designer could come in my home and ask some pertinent questions, take some pictures, but leave with a masterpiece. That's exactly what he's done. I can't express enough how great Jeremy and his team was to me and my wife. We had a lot of fun, and it was exciting to be so involved in the whole process of building our website. Jeremy has helped us so much in our business identity. We were lacking that. Not only did we have a website that was better than anything we could fathom after Jeremy got done with that, but also business cards that represent that website that developed that business identity. Because of Jeremy, we have and we are a business that shows credibility and success, and that is so key and essential with the competitive market these days. I just want to thank you, Jeremy, for everything. It's been a pleasure doing business with you. 
-------------------------------------------
We have an insurance agency and we're one of the leading commercial insurance companies here in Arizona. We hired Jeremy to create a new identity for us. Our own agency identity or a new agency identity and to help us distinguish us from 300-plus other agencies here in Phoenix. I've been very impressed with his results. Jeremy really listens to what we're trying to accomplish and blend his ideas which are some new, fresh ideas, with our existing ideas to come up with a solid graphic design and advertising solutions for what we're trying to accomplish. Everything he's produced for us has been excellent, been very easy to work with. Actually been a pleasure to work with him. I'd recommend him for anybody who wants to take their business to the next level as far as marketing and new identity, etc. for their business.